Livingston tracker
Livingston's shipment tracking system allows you to locate and check the release status for your U.S. and Canada bound shipments.
For U.S. bound shipments:
For Canada bound shipments:
---
Notice
Detroit-Windsor Tunnel closure planned for repairs and upgrades
The Detroit-Windsor Tunnel border crossing will be closed on evenings and weekends for repairs and upgrades. T
Repair schedule:
Repairs to the Detroit-Windsor Tunnel will continue on evenings and weekends as follows:
January 2 to Mid-June: The Tunnel will be closed from 8:00 p.m. to 5:30 a.m. each Sunday through Thursday night.
---
If you're interested in learning about our carrier services or to become a Livingston preferred carrier, please view our business process services or contact us to learn more.
---
Track your shipments on the go!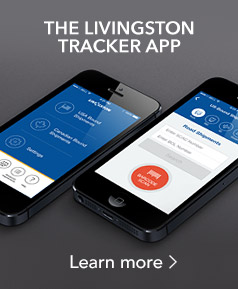 Introducing the Livingston Tracker App
The Livingston Shipment Tracker App lets you quickly and easily check the clearance status of your shipments through the U.S. and Canadian borders on the go, keeping you informed of your shipment's status no matter where you are!
Download now!
The Livingston Shipment Tracker App is available now. Click here to learn more about the app, or use the buttons below to download it on your platform of choice: